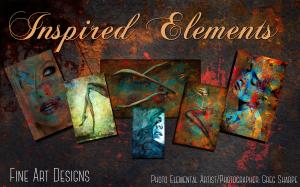 Are you an interior designer, home decorator, or just love art in your spaces? Whether you are in SOHO, a luxury home or in the rural countryside, these prints will not disappoint.

"Inspired Elements" is an emerging photo elemental artistry collection by photographer and designer Greg Sharpe. Designed specifically for the energy, emotion and mystery they will show in your spaces. These prints are turning heads and creating conversations where ever they hang.

If you are an interior designer: Get a taste of my signature series pieces that are sure to complete any of your projects. Your clients will be extraordinarily pleased with the outcome. Check out my latest collection of "Retro" inspired pieces for any space large or small. Get inspired at: Inspired Elements Collection

If you just love showing your style and creating those very unique spaces in your home, look no...